CIVET Translational Fellows Program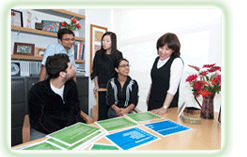 The CIVET Translational Fellowship program is a unique opportunity for outstanding students to gain a better understanding of the strategic role that innovation and commercialization play in the world of technology. The fellowship supplements classroom learning with valuable and varied experience at the CIVET offices on Busch Campus.
Fellowships are awarded on a semester-by-semester basis, and fellows spend approximately 10 hours per week on site learning through practice in project-defined activities. A minimum tenure of one semester is required and fellowships of one year have proven most effective. Fellowship sponsors provide mentorship and guidance as well as opportunities for skill growth and professional networking.
We welcome participation from undergraduate students in good standing from all relevant disciplines including engineering, mathematics, computer science, chemistry and chemical biology, physics, the life sciences, business, law and others judged to have interest in "the business end of technological innovation," as well as possessing excellent writing and interpersonal skills.
Interested students may
download and complete an application
and mail it to CIVET Executive Director
Susan Engelhardt
.